Vicki Lawrence Agent
Contact Information
---
Vicki Lawrence is represented by:
Michael Pick International
MPI Talent Agency
9255 Sunset Blvd. Ste 407
Los Angeles, CA 90069
310-859-7300
310-275-7437
For booking information:

Phone: (310) 859-7300
E-mail: mpiinc@earthlink.net
Web Page: www.mpitalentagency.com

But please be aware this is not a fan club and emails or phone calls
to this company about autographed photos or anything other than
interest in booking Vicki for a professional appearence
will not be answered.
---
If you would like to obtain Vicki's autograph,
please send a request to me and I will forward it to Vicki.
I'll need your name and address.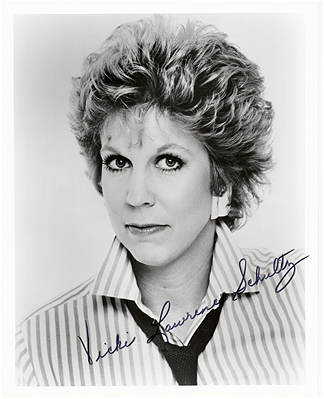 Please be patient, Vicki is currently touring with her new show.
Note: Personal inscription of the photo may not always be possible.
Photo above used as a sample only and may vary
from the photo sent to you.
---
Last updated on January 2, 2006 by Daniel Selby
This entire web site and all contents copyright © 2002-2012 Daniel J. Selby.